What Is Fire Damage Restoration?
Fire damage restoration is the process of returning a fire and smoke damaged property to pre-loss condition. A fire in a home or business is an absolute nightmare to deal with because the damage is usually extensive and extremely disruptive to your life. You may feel a sense of relief once the fire is put out and everyone is safe, but the damage cleanup and repair is only beginning. 
Fire Damage Restoration Services Michigan
Companies like us that specialize in providing fire damage restoration services use advanced equipment and cleaning products to remove soot or smoke damage as well as odors from various surfaces, salvage personal items and restore the structure to a pre-loss condition or better. Restoration contractors will also help the homeowner make decisions regarding the repair or replacement of certain elements of their home as well as walking them through the insurance claims process. Detailed estimates for every faze of the rebuild process will also be handled by the fire restoration company.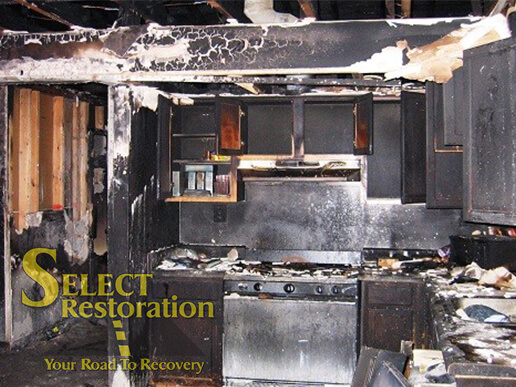 Steps to Restore Fire Damage
Before your fire damage restoration contractor can even enter the property to assess the extent of fire damage, they must first receive the official go ahead from a licensed building authority or the Fire Marshall. After they've been granted access to the property, here's a typical look at how the fire damage restoration process is carried out from there:
Step 1: Assessing Damage After A Fire
After the emergency is under control, it's time to step back and assess the overall situation – but safety is still your main concern. DO NOT reenter your home or business if it is not safe to do so; find a place to stay and return when it is safe to handle this step.
When assessing fire damage, you just want to get a general idea of what happened and what has been damaged. Select Restoration and your insurance adjuster will do a more thorough assessment of damages later on.
where did the fire start?
Where is the majority of the damage located?
Is your home exposed to the elements (broken windows, holes in the roof, etc)?
We will put an entire list together with a detailed estimate on your behalf.
When assessing the damage we will take hundreds of photographs which are helpful in proving your disaster claim and getting your insurance money faster.
When assessing the damage DO NOT begin cleanup. One mistake home & business owners make is that they often start to clean up the disaster – for example, they may vacuum up the pooling water, thinking that they are helping the situation. However, the insurance company needs detailed and documented proof of the disaster itself, so cleaning up without documenting the proper evidence can hurt your claim (or even get it denied). Leave It Alone The Damage Is Already Done It Will Be Covered.
2. Securing the Property
After the assessment has been performed, the next step is securing the property. This includes installing fencing around the property, removing debris around the perimeter, and boarding up window openings in the structure, as well as tarping or sealing off parts of the roof to protect what's left of the property from the weather. If certain areas of the property were not impacted by the fire, then it's important for restoration professionals to ensure that this area is sealed off from the area that was impacted to minimize any cross contamination.
3. Demolition, Water Mitigation & Dry Out
The goal during this stage is to prevent further damage due to mold or corrosion by removing water used to put out the fire and drying out the structure. Personal property will be removed from the interior of the structure (contents, textiles and electronics). Damaged drywall, flooring and any other damaged building materials will be removed down to the studs as necessary. Water extraction crews will work with commercial drying equipment to thoroughly dry out the structure (fans, dehumidifiers) and smoke odor machines sure as (ozone, air scrubbers or hydroxyl generators) will be used to help eliminate smoke odor and soot particles . Roof tarps will be maintained during this stage to prevent further intrusion of water.
4. Clean Up & Smoke Removal
This is the most intensive part of a fire damage restoration job: clean up. This step typically involves a lot of manual labor to properly clean smoke and soot from interior and exterior surfaces. In many cases, every inch of the affected area will need to be cleaned. Following proper clean up, deodorizing agents are used to fully remove any lingering smoke odors. If water damage restoration has also been performed, it may be necessary to sanitize or apply antimicrobial chemicals to halt any subsequent mold growth. Off site, any contents that have been packed out are also likely being restored to pre-loss condition. Clean up also involves duct cleaning to remove any soot, smoke or debris that may have settled in ducts.
5. Construction & Restoration
The final step in returning the property to pre-loss condition is performing any necessary fire damage repairs or to rebuild fire-damaged areas. In the case of a fire, parts of the structure may be completely unsalvageable during the initial assessment, and therefore have to be removed and replaced. This may include: rebuilding and replacing the roof, replacing electrical, replacing and painting drywall, replacing flooring materials, replacing interior counters, fixtures, etc. to bring the property back to pre-loss condition.
Benefits of Choosing Select Restoration.
Not only do we offer 24/7 emergency disaster relief services, we are also staffed with residential and commercial building contractors, a certified restoration team, designers and project managers – we even have a remodeling showroom where you can speak to designers and pick out materials like flooring, cabinets and counter tops etc. Select Restoration's extended services mean that we can continue to work with you throughout the restoration process to help put your home – and life – back together again.
Looking for a fire restoration contractor, have questions or need a second opinion? Contact us today for a free no obligation consultation 586-791-3900