Take Your Basement Ceiling To New Heights With Paint!
Painting an exposed basement ceiling black, white, or gray is a newer trend here in Michigan that looks great and can save you a lot of money. The process involves painting the ceiling and ductwork, leaving the wires exposed. It's a popular way to make a short ceiling look taller or create a classic industrial look.
Consult With Our Designers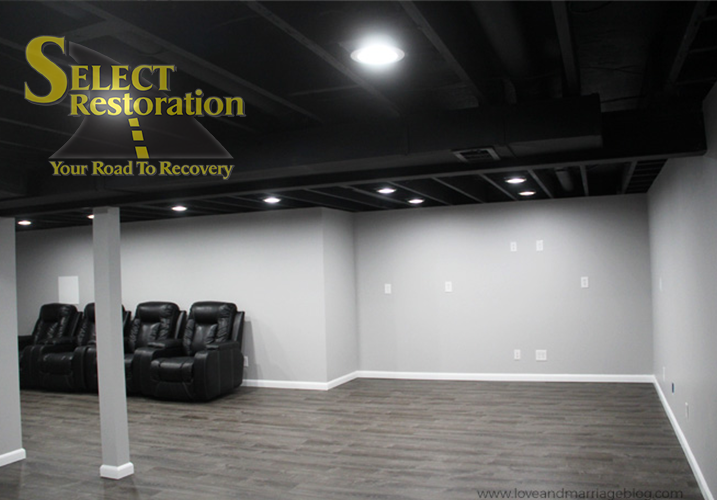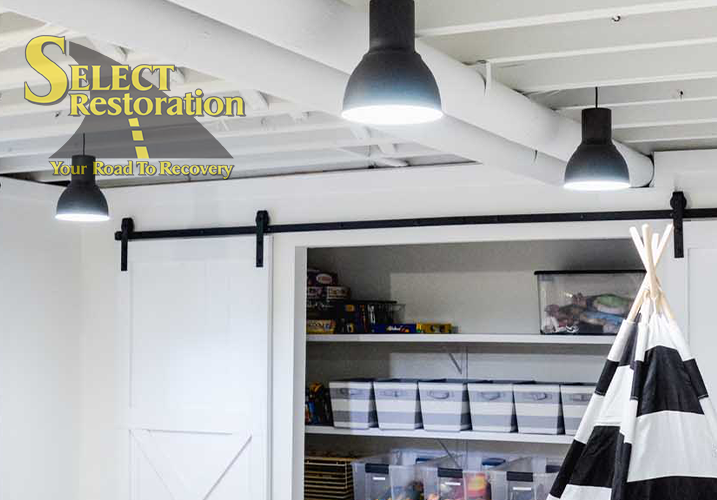 Benefits of Painting Exposed Basement Ceiling
By keeping the basement ceiling open, you have much easier access to the HVAC ducts, plumbing, pipes, and electrical wiring in your home. You only have to reach up and fix what you need to if something breaks, it's time to perform maintenance, or you choose to tackle another home improvement project later. When you leave the basement ceiling exposed, you also add a little more ceiling height than if you drywalled the ceiling. Many old houses have particularly low ceilings. Drywall only lowers ceilings by around an inch, but when your ceiling is already too low, leaving it open will make the space feel like you added height. The floor joists vertical lines also trick the eye into thinking the ceiling is higher. The walls don't actually gain height, but they appear to do so. If you have a low basement ceiling already, consider painting the exposed ceiling instead of using drywall. The industrial look is trendy today, especially when it comes to exposed ceilings. If you enjoy a modern, industrial appearance, try it out in your home.
"Select Restoration Restores Homes & Businesses Back To New After Devastating Disasters, Imagine What We Can Do For You"

Select Restoration provides an in-house showroom as a time-saving feature to help our customers pick out the materials needed to complete the restoration at their property. We have everything from builders grade to high-end materials to choose from. Call today or stop in our showroom and speak with one of our certified team members. Together, our experience and knowledge coupled with your ideas and input will enhance the appearance of your home.
Call To See Our Work, We Have Hundreds Of Satisfied Customers That Would Love To Show Us Off!
Benefits for our Customers – You will always receive a returned phone call the same day and have full access to the owner of the company at any time. We offer ergonomic designs that are workable, functional and aesthetically pleasing to the eye. Quality craftsmanship and expert custom installation will result in an end project that makes a positive statement about you. Select Restoration creates living spaces that fit anyone's budget, lifestyle and image while enhancement your home's value.
Our Basement Ceiling Painting Process In Macomb County, Oakland & Wayne 
Set-up– Items are covered with clean, new plastic sheeting. All floors are protected with drop cloths.
Prepare– Based on your requests, holes and cracks in walls are filled; stains are sealed.
Paint– Repaired areas are primed and premium quality paint is applied for a uniform finish.
Clean– We treat your home just like it is our own – with the utmost care and respect. We leave everything right where we found it and we pay close attention to doing a thorough job cleaning the work area.
Inspect– After our own inspection, your job site supervisor will walk you through the space, giving you the opportunity to review our work and to provide any initial feedback.

Select Restoration hold's all licenses, certifications, insurance and workmans comp required by state and federal agencies to perform contracting services here in Michigan.
Basement Ceiling Painting Services: Auburn Hills, Berkley, Beverly Hills, Birmingham, Bloomfield Hills, Bloomfield Township, Clarkston, Clawson, Commerce Township, Drayton Plains, Farmington, Farmington Hills, Ferndale, Franklin, Hazel Park, Highland, Holly, Huntington Woods, Harbor, Lake Orion, Lakeville, Leonard, Madison Heights, Milford, New Hudson, Northville, Novi, Oak Park, Oakland, Ortonville, Oxford, Pleasant Ridge, Pontiac, Rochester, Rochester Hills, Royal Oak, South Lyon, Southfield, Troy, Union Lake, Walled Lake, Waterford, West Bloomfield, White Lake, Wixom