Fire Damage Restoration Services Of Michigan
Our Fire Damage Restoration Company utilize advanced techniques & equipment to restore your property back to pre-loss condition or better. 1hr response anywhere in Macomb, Oakland or Wayne County.
Dealing with fire damage in your home or business is one of the hardest things you will ever have to deal with. Don't panic, we offer complete fire and smoke damage cleanup, repairs and full restoration services.
Should I call my insurance company?

Will my insurance cover the cost to rebuild?

Who can help me fix this Fire Damage?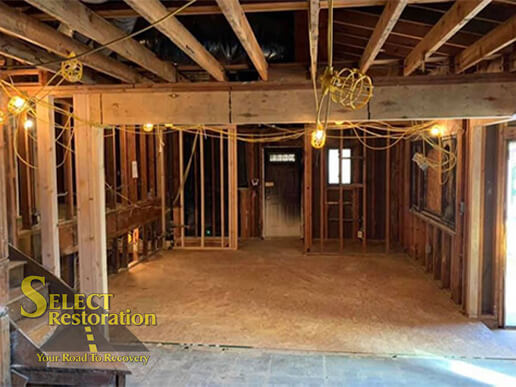 "Don't Panic, Your At The Right Place" We provide fire restoration services for single & multi-family homes and business properties
Common Types of Fires We See In Michigan Homes
Fire only needs three things to start and quickly grow out of control; an ignition source, fuel, and oxygen. Your home is filled with possible ignition sources, as well as fuel, which can result in a number of fire types that damage a home in different ways.
Food/Protein Fires
Food on the stove, in the oven, or even the microwave can burn resulting in a kitchen fire. While this type of fire damage can often be contained, it can still lead to major structural damage as well as smoke residue and intense odor within the kitchen and the entire home.
Complex Fires
When synthetic and natural items burn, they can create deep black smoke damage and residue on the contents and surfaces in your home. This requires immediate and emergency treatment to avoid corrosion and protect your property.
Natural Fires
When natural fires occur outside, such as trees and shrubs burning, smoke can penetrate the home leaving residue. It can also coat and damage the exterior of your home. Restoration is often needed to restore the property, protect interior surfaces, and eliminate odors from the smoke damage.
Furnace and Appliance Malfunctions
Heating appliances, furnaces and other appliances can fail resulting in fire as well as smoke being distributed throughout the home. This requires treatment of smoke damage to eliminate odors, and renovation where the home's structure may have been impacted.
'Quality Service Since 1993'
"We Work With All Insurance Carriers"

"Helping Michigan Families & Businesses Recover for Over 27 Years"
Select Restoration provides an in-house showroom as a time-saving feature to help our customers pick out materials needed to complete the restoration process. We everything from builders grade to high-end materials to choose from. 
Contact Us Today To See Our Work, We Have Hundreds Of Satisfied Customers That Would Love To Show Us Off!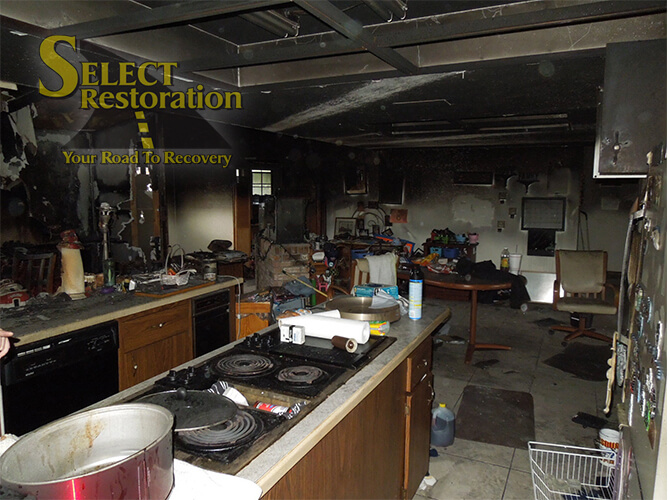 3 Steps Of Our Fire Restoration Process
Step 1
FIRE DAMAGE INSPECTION
Within 60 minutes of your call, Select can have a team of certified fire restoration specialist on-site determining the structural integrity of the property, what emergency services are needed to prevent further damage, minimize losses and what is needed to secure the property. We will then explain the entire restoration process to the homeowners in full detail.
Step 2
EMERGENCY SERVICES
Select provides 24/7 emergency services for boarding up broken windows or doors, tarp open roofs to protect from the elements and intruders. We also supply the home with temp power or winterize to prevent further damage to the property during winter months. Select will bring in other vendors to assist in the contents, textile & electronics property restoration.
Step 3 FIRE DAMAGE REPAIRS, RECONSTRUCTION, RESTORATION
Fire Damage Repairs – Our fire repair professionals hold all licenses, insurance and workers compensation required by state and federal agencies to perform fire damage repairs here in Michigan. Select Restoration uses a proven and detailed plan to restore your Fire Damaged Property to a pre-loss or better condition quickly & correctly, including smoke damage cleanup, thermal fogging & dry-ice blasting for odor removal. If you suffered a fire in your home or commercial property contact us immediately. We handle all Kitchen, Electrical & Grease Fires.
Reconstruction – Our reconstruction division can handle everything from demolition & repairs to the complete rebuild of the damaged structure. Our estimators & project managers will hold your hand from the beginning to the end of your restoration project. When the construction is complete, they will do a final walk-through with all parties involved including the insurance Company Adjuster, Mortgage Company Etc. At this time final payments will be collected as the Mortgage Company And Insurance Company hold on to a big portion of the insurance claim money till the end of the project for your protection.
Restoration – Select will work with your design plans or you can choose to work with one of our affiliated architects or interior designers. We will create the look and feel you want to achieve for your renovation or home improvement Project. Select Restoration will work closely with you to gain a full understanding of your vision and to insure that all the details of your design plans are executed in a quality manner and on-time. We are committed to achieving designs that are functional as well as aesthetically pleasing. Our clients are treated with the respect and the concern that they deserve.
Select Restoration is not a franchise company. We have built our reputation not bought it. Since 1993, we have a proven track record in rapid mobilization, maximizing insurance claim payouts, working with insurance adjusters, mortgage companies and local building departments to streamline our restoration projects. 
"We offer a 3 year workmanship warranty"


Fire & Smoke Damage Restoration Services In Macomb, Oakland & Wayne County Michigan
Armada, Center Line, Clinton Township, Eastpointe, Fraser, Harrison Township, Mount Clemens, New Baltimore, New Haven, Ray, Richmond, Romeo, Roseville, Saint Clair, Saint Clair Shores, Sterling Heights, Utica, Warren, Washington, Auburn Hills, Berkley, Beverly Hills, Birmingham, Bloomfield Hills, Bloomfield Township, Clarkston, Clawson, Commerce Township, Drayton Plains, Farmington, Farmington Hills, Ferndale, Franklin, Hazel Park, Highland, Holly, Huntington Woods, Harbor, Lake Orion, Lakeville, Leonard, Madison Heights, Milford, New Hudson, Northville, Novi, Oak Park, Oakland, Ortonville, Oxford, Pleasant Ridge, Pontiac, Rochester, Rochester Hills, Royal Oak, South Lyon, Southfield, Troy, Union Lake, Walled Lake, Waterford, West Bloomfield, White Lake, Wixom, Allen Park,  Belleville, Canton, Dearborn, Delray, Detroit, Ecorse, Flat Rock, French Landing, Garden City, Gilbraltar, Greenfield Village, Grosse Ile, Grosse Pionte, Grosse Pointe Farms, Grosse Pointe Shores, Grosse Pointe Woods, Hamtramck, Harper Woods, Highland Park, Inkster, Lincoln Park, Livonia, Melvindale, Northville, Oak Park, Plymouth, Redford, River Rouge, Riverview, Rockwood, Romulus, Southgate, Taylor, Trenton, Wayne, Westland, Woodhaven, Wyandotte