Hoarding Cleanup Services Of Michigan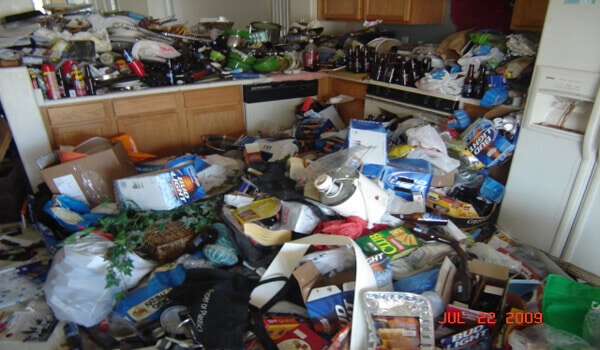 Garbage Hoarding
Garbage Hoarding individuals in general tend to have more severe symptoms of mental disorder than the average hoarder.
Michigan Garbage Hoarding
Syllogomania is defined as the hoarding of pure trash. Although pure syllogomania hoarding cases – where there are no items of value, sentiment, or functional use – are rarely seen, they do exist.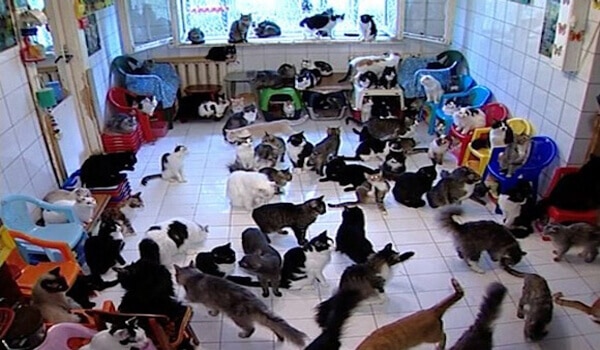 Animal Hoarding
More often than not, we encounter animal hoarder's homes that are also affected with the general accumulation of clutter.
Michigan Animal Hoarding
As the accumulation of animals grows, either through the steady acquiring of more animals or through the animals producing litters of their own, the situation can quickly spiral out of control.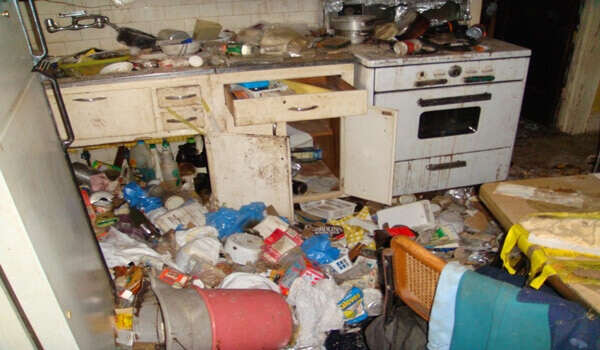 Food Hoarding
Larder hoarding, or more commonly known as food hoarding, is mainly contributed to the fear of losing everything They Have..
Michigan Food Hoarding
Food hoarding, is mainly contributed to the fear of losing everything. This fear drives the individual to stockpile items that may assist in a perceived "survival mode," where they are forced to live off of their stockpile.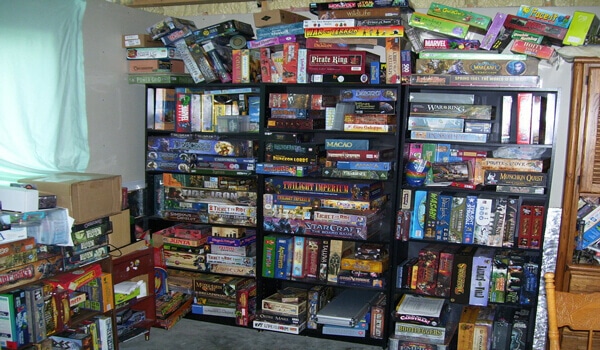 Collector Hoarding
Collector Hoarding always leads to the accumulation of every day clutter on top of the already large collections within the home.
Michigan Collector Hoarding
The collection ultimately grows to a size where it is considered hoarding due to the fact that the collection is interfering with the daily functioning of the household.

We offer compassionate & discreet Hoarding Cleanup Services 
Our priority is to get your life back to normal as quickly as possible.
We are professional, reliable and compassionate.
We are a Licensed, Bonded and Insured (License # 2102185156) 
Hoarding and Clutter Clean up Macomb, Oakland, Wayne MI
Triage and Sorting of Contents
Recovery of Valuables and Sentimental Items
Paperwork Recovery and Storage
Cleanup and Disposal of Animal and/or Human Waste
E-Waste Recycling
Delivery of Storage Containers
Photo/Video Documentation
Itemized Inventory / Boxing / Sorting / Labling
Deep Cleaning
Home Repairs, Restoration – Paint, Drywall, Carpet, Electrical, Plumbing, Etc.
Many people are hesitant to call for an estimate or cleanup of a hoarding scenario because they believe the process will be very stressful and lengthy. We make it our #1 priority to make each one of our clients as comfortable as possible.  We understand removing items from your home can be stressful and we work with you to make it a good experience.  It's as simple as 1, 2, 3.
CALL NOW for immediate response 24 hours a day, 7 days a week
Our Certified Technicians will arrive on-site in less than 30 minutes
Our Hoarder Cleanup Experts will resolve the problem quickly & correctly
Professional Hoarder Cleanup Services In Michigan
Our vision is simple, e
xceed our customer's expectations and deliver The Best Hoarder Cleanup Services in Michigan.
 We realize that your situation is personal, and so is our approach. From the initial consultation to completion, our mission is to help put your life back together and return your property to a pre-loss condition or better as soon as possible. We are with you every step of the way. 
Our Michigan Hoarding Cleanup Service Areas
Armada, Center Line, Clinton Township, Eastpointe, Fraser, Harrison Township, Mount Clemens, New Baltimore, New Haven, Ray, Richmond, Romeo, Roseville, Saint Clair, Saint Clair Shores, Sterling Heights, Utica, Warren, Washington, Auburn Hills, Berkley, Beverly Hills, Birmingham, Bloomfield Hills, Bloomfield Township, Clarkston, Clawson, Commerce Township, Drayton Plains, Farmington, Farmington Hills, Ferndale, Franklin, Hazel Park, Highland, Holly, Huntington Woods, Harbor, Lake Orion, Lakeville, Leonard, Madison Heights, Milford, New Hudson, Northville, Novi, Oak Park, Oakland, Ortonville, Oxford, Pleasant Ridge, Pontiac, Rochester, Rochester Hills, Royal Oak, South Lyon, Southfield, Troy, Union Lake, Walled Lake, Waterford, West Bloomfield, White Lake, Wixom, Allen Park,  Belleville, Canton, Dearborn, Delray, Detroit, Ecorse, Flat Rock, French Landing, Garden City, Gilbraltar, Greenfield Village, Grosse Ile, Grosse Pionte, Grosse Pointe Farms, Grosse Pointe Shores, Grosse Pointe Woods, Hamtramck, Harper Woods, Highland Park, Inkster, Lincoln Park, Livonia, Melvindale, Northville, Oak Park, Plymouth, Redford, River Rouge, Riverview, Rockwood, Romulus, Southgate, Taylor, Trenton, Wayne, Westland, Woodhaven, Wyandotte