Sump Pump Failure Macomb County MI
Our Failed Sump Pump Cleanup process utilizes advanced techniques to restore your home back to pre-loss condition or better.
If a storm knocks out power or if for any other reason, your sump pump fails, there is no defense against the water damage that will follow. Select Restoration will cleanup & dry-out your wet flooded basement quickly & correctly.
IICRC Certified Technicians

Licensed, Bonded, Insured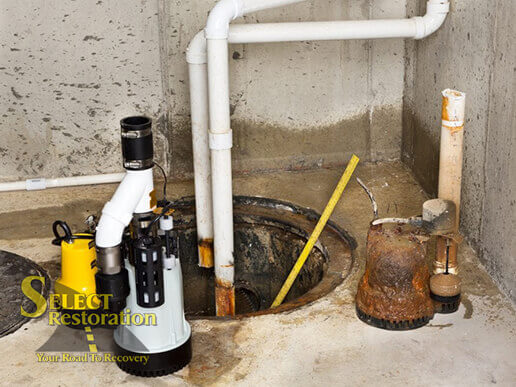 Leading Sump Pump Failure Cleanup Company Macomb County
When A Sump Pump Fails, You Need A Team Of Water Damage Professionals On Your Side To Extract The Water And Dry-Out The Wet Structure. Select Restoration Provides Every Qualified Piece Of The Puzzle Needed To Restore Your Home Or Business Back To Pre-Loss Condition or Better After Any Water Disaster.
We provide water damage cleanup services for failed sump pumps in single & multi-­family homes, and business properties
"We Work With All Insurance Carriers"
"Helping Michigan Families & Businesses Recover for Over 29 Years"

Our proven process will ensure that your property fully recovers from a disastrous flood. The key to our success is our fast response, advanced equipment and a dedicated team, and we're available 24/7, so don't hesitate to call now!
Step 1
SITE INSPECTION
Within 60 minutes of your call, SELECT can have a certified water damage technician on-site to do an initial assessment of the damage such as humidity and moisture readings to determine the appropriate action needed to reverse the negative effects of the water damage. Once completed, the water damage restoration process can begin.
Step 2
STOP FURTHER DAMAGE
Containing the damage, extracting all standing water, cleaning up is the first priority, this will help stop further damage. All wet contents on the floor such as throw rugs, pillows, clothing, toys, are removed from the affected area. Once water is extracted, technicians will begin to remove any wet building materials to help expedite the drying process.
Step 3 WATER DAMAGE REPAIR, RECONSTRUCTION, RENOVATIONS
Water Damage Repairs – Baseboards, non-salvageable carpet & pad, drywall & wet insulation are might be removed during the mitigation process. Cabinet drawers and doors are opened and toe kicks may be removed to accelerate drying in these tight spaces. (Depending on the extent of the damage, and how they respond to drying, cabinets may need to be replaced).
Stabilizing and Drying: After extraction & cleanup and the removal of all wet building materials, the drying process begins. Commercial grade air movers, dehumidifiers, wood floor drying systems, and heaters to generate dry air and increase air circulation and evaporation may be set in place. During the drying process, the environment is carefully monitored each day and the progress results are documented. Moisture control is absolutely crucial in preventing mold growth. Normal drying time is usually 3 to 5 days depending on the scenario and materials impacted.

Reconstruction: Once the water damage has been mitigated, and the structure has been returned to a dry standard, A project manager will meet on-site to discuss the put back of your home. Any structural damage repairs or building materials need replacement or reconstruction will be discussed at this time. This is the final step in the water restoration process. By the end of reconstruction, your dwelling will be safe, healthy and returned to its pre-loss condition.
Select Restoration will exceed all your expectations and deliver outstanding results that will leave your home or business looking better than new. Thanks to our 27 years of in business experience in the water damage restoration industry, we have become very well-versed in dealing with insurance claim adjusters, mortgage companies and local building departments alike to streamline any water restoration project.
Look to the right, this basement had water damage from from a failed sump. The previous contractor told the customer that everything in her basement was dried out successfully, WRONG. This home owner called Select Restoration for a second opinion and said her basement had a musty smell, Select came in and found that a closet in the corner of the basement was still wet causing the smell and starting to grow mold. If not found this could have cost the home owner thousands in unnecessary repairs not to mention all kind of health problems. Be sure what ever restoration contractor you choose to cleanup after a failed sump pump, has the technology needed to find hidden moisture.
Our Sump Pump Failure Cleanup Process
As Property Damage Mitigation and Restoration Experts, Select Restoration will guide you through the chaos and complexity of the disaster recovery process and provide true relief by guiding you through the entire insurance claims process.
24/7 Emergency Response/Mitigation | Detailed Estimating/Claim Management | Return Your Property To Pre-Loss Condition.

Select Restoration provides an in-house design center as a time-saving feature to help our customers pick out materials needed to complete the restoration process. We have everything from builders grade to high-end materials to choose from. 
Call Today To See Our Work, We Have Hundreds Of Satisfied Customers That Would Love To Show Us Off!
"Select Restoration Will Put You On "Your Road To Recovery"


If Your Property Sustained Damage From A Failed Sump Pump And Need Water Damage Cleaned Up, Contact Us Today For A Free NO PRESSURE Consultation and site inspection. Let Select Restoration Put you On "YOUR ROAD TO RECOVERY" 
Sump Pump Water Damage Cleanup In Macomb County Michigan
Armada, Center Line, Clinton Township, Eastpointe, Fraser, Harrison Township, Mount Clemens, New Baltimore, New Haven, Ray, Richmond, Romeo, Roseville, Saint Clair, Saint Clair Shores, Sterling Heights, Utica, Warren, Washington, Auburn Hills, Berkley, Beverly Hills, Birmingham, Bloomfield Hills, Bloomfield Township, Clarkston, Clawson, Commerce Township, Drayton Plains, Farmington, Farmington Hills, Ferndale, Franklin, Hazel Park, Highland, Holly, Huntington Woods, Harbor, Lake Orion, Lakeville, Leonard, Madison Heights, Milford, New Hudson, Northville, Novi, Oak Park, Oakland, Ortonville, Oxford, Pleasant Ridge, Pontiac, Rochester, Rochester Hills, Royal Oak, South Lyon, Southfield, Troy, Union Lake, Walled Lake, Waterford, West Bloomfield, White Lake, Wixom, Allen Park,  Belleville, Canton, Dearborn, Delray, Detroit, Ecorse, Flat Rock, French Landing, Garden City, Gilbraltar, Greenfield Village, Grosse Ile, Grosse Pionte, Grosse Pointe Farms, Grosse Pointe Shores, Grosse Pointe Woods, Hamtramck, Harper Woods, Highland Park, Inkster, Lincoln Park, Livonia, Melvindale, Northville, Oak Park, Plymouth, Redford, River Rouge, Riverview, Rockwood, Romulus, Southgate, Taylor, Trenton, Wayne, Westland, Woodhaven, Wyandotte