Board Up Services Michigan
Michigan's first choice for Board Up Services in Macomb, Oakland & Wayne County. We board up windows, garage doors, roofs, large bay windows, and other areas needing to be secured. We work directly with you or your insurance company.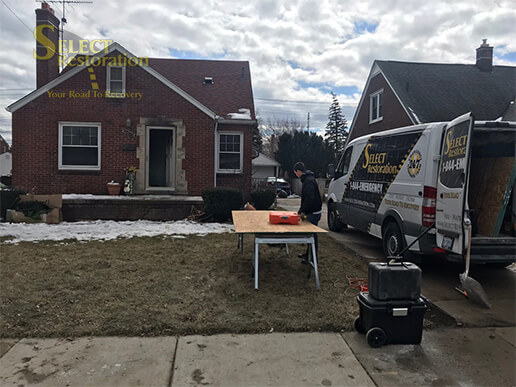 Michigan Board Up Service
One of the most devastating events a homeowner or business owner can experience is serious property damage due to fire, storm, burglary, vehicle and/or animal impact, or vandalism. Even when damages are minimal, this type of situation requires proper repair. Without the structure being adequately protected, additional damage could occur on the outside, and belongings on the inside of the structure could be at risk. At Select Restoration, we offer 24/7 emergency window board up services to secure properties and to reduce further loss.
Board up Services To Protect Your Macomb, Oakland And Wayne County Property 
Without a home or business being boarded up, animals and people can get inside, which could easily result in damage, as well as theft or injury. If a damaged property were not boarded up, it would be open to the environment so any additional rain, snow, hail, or wind would only intensify the problem. Of course, one of the most important reasons for using the board up services of Select Restoration is that if the damaged structure were not been boarded up, any further damage, theft, or injury would become the financial responsibility of the property owner.
Our Property Restoration experts provide 24/7 immediate response, cost effective decision making with proven strategies and leadership. Our team can be on-site within 60 minutes to quickly stabilize the existing conditions and Board Up your property. Our strength lies within our dedicated team of professionals. Each specialist comes from a diverse background in new construction, property damage restoration and insurance claim negotiations. 
Our Restoration Process
As Property Damage Mitigation and Restoration Experts, Select Restoration will guide you through the chaos and complexity of the disaster recovery process and provide true relief by guiding you through the entire insurance claims process.
24/7 Emergency Response/Mitigation | Detailed Estimating/Claim Management | Return Your Property To Pre-Loss Condition.

Select Restoration provides an in-house design center as a time-saving feature to help our customers pick out materials needed to complete the restoration process. We have everything from builders grade to high-end materials to choose from. 
Call Today To See Our Work, We Have Hundreds Of Satisfied Customers That Would Love To Show Us Off!
"Select Restoration Will Put You On "Your Road To Recovery"
Board Up Services Macomb, Oakland, Wayne MI
Use Select Restoration's Board Up Services when you experience:
Vandalism Damage
Fire Damage
Storm Damage (including wind damage)
Domestic Violence Damage
Terrorism Property Damage
Animal Damage
Transition between ownership to protect contents or windows
During new construction while windows are being ordered etc.
Foreclosures/vacant buildings
Why Choose Select Restoration? 
"Always Ready to Respond & Restore"
1-586-791-3900