Smoke Damage Cleanup Services Macomb County
Macomb County Smoke Damage Restoration Experts
Experiencing Fire Damage in your home or business is a traumatic event, not to mention the smoke, soot and water damage left behind from the fireman's efforts. Determining what type of fire occurred will determine how long the restoration process will take to complete as not all smoke damage is the same. Fires high in oxygen will leave behind drier smoke residue that is easier to remove than the wet, sticky residue that a low oxygen fire gives off. Select Restoration is leading Smoke Damage Cleanup Company here in Macomb County. We will quickly evaluate the situation and put a plan into action to stop further damage. When the fire is out, timing is critical, restoration must begin quickly to maximize effectiveness and minimize losses.
Free Consultation And Site Inspection – We Can Be On-Site In 30 Minutes Or Less To Evaluate The Damages!
Our smoke cleanup process utilizes advanced techniques to restore your property back to pre-loss condition or better.
Dealing with fire damage in your home or business here in Macomb County is one of the hardest things you will ever have to deal with. When your property is damaged by smoke, soot and ash you will be stuck wondering how you should proceed, with a million questions running through your head.
Should I call my insurance company?

Will my insurance cover the cleanup bill?

Who can help me cleanup this mess?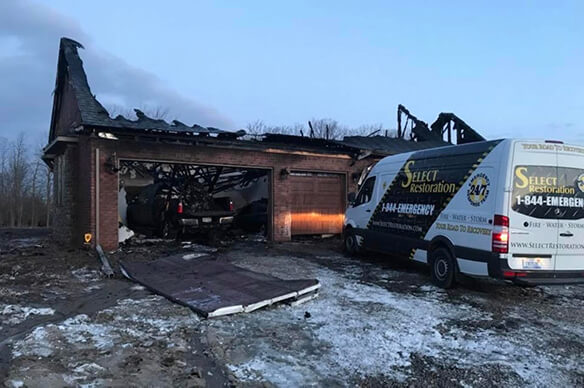 Our Smoke Cleanup Process Here In Macomb County
Select uses a variety of unique smoke damage cleanup techniques and equipment to rid your home or business of smoke odor, soot and ash quickly. The use of air scrubbers, ozone generators, hydroxyl generators, thermal fogging or chemical free solutions like dry ice blasting will rid your property of smoke damage quickly and correctly. We use HEPA vacuums to further remove soot particles from all surfaces and the air and frequently wipe down hard surfaced by hand with a chemical free treatment to remove soot from all surfaces.
Industry Leading Fire Damage Restoration Contractor
Depending on the origin and size of the fire, the smoke cleaning process could take considerable time and resources. SELECT will respond to your fire damage loss with a team of certified restoration experts to stop immediate damages, cleanup & restore you property back to a pre-loss condition or better. As part of the fire restoration process, SELECT has resources ready to handle the delicate tasks of removing smoke, soot and ash from your electronics, textiles and contents.
"We Work With All Insurance Carriers"


"Helping Michigan Families & Businesses Recover for Over 27 Years"
"Don't Panic, Your At The Right Place" We provide smoke cleanup services for single & multi-family homes and business properties





We Provide Every Qualified Piece Of The Puzzle Needed To Restore Your Property To Pre-Loss Or Better Condition After A Catastrophic Event. Contact Us 24/7 For A Stress-Free Recovery With Exceptional Results.


If Your Property Sustained Smoke Damage From A Recent House Fire, Contact Us Today For A Free NO PRESSURE Consultation and site inspection. Let Select Restoration Put you On "YOUR ROAD TO RECOVERY" 
Smoke Damage Cleanup Services In Macomb County
Armada, MI. Center Line, MI. Clinton Township, MI. Eastpointe, MI. Fraser, MI.Harrison Township, MI. Mount Clemens, MI. New Baltimore, MI. New Haven, MI. Ray, MI. Richmond, MI. Romeo, MI. Roseville, MI. Saint Clair, MI.Saint Clair Shores, MI. Sterling Heights, MI. Utica, MI. Warren, MI. Washington, MI.