Fire Damage Restoration St Clair County Michigan
Our fire restoration process utilizes advanced techniques to restore your property back to pre-loss condition or better.
Dealing with Fire Damage in your home or business here in St Clair County is one of the hardest things you will ever have to deal with. When your property is damaged by Fire or Smoke you will be stuck wondering how you should proceed, with a million questions running through your head.
Should I call my insurance company?

Will my insurance cover the cost to rebuild?

Who can help me fix this Fire Damage?
"Don't Panic, Your At The Right Place" We provide fire restoration services for single & multi-family homes and business properties
"We Work With All Insurance Carriers"

"Helping Michigan Families & Businesses Recover for Over 27 Years"
Our proven process will ensure that your property fully recovers from a disastrous fire. The key to our success is our fast response, advanced equipment and a dedicated team, and we're available 24/7, so don't hesitate to call now!
How Are We Different?
Select Restoration is not a franchise company. We built our reputation not bought it. Since 1993, we have serviced St Clair County MI and have maintained a proven track record in maximizing insurance claim payouts, working with insurance adjusters, mortgage companies and local building departments to streamline the fire restoration process.
"We can guarantee our work because the background and experience our team assembles is unmatched in our industry"
Industry Leading Fire Restoration Experts
When Fire Damage Strikes, You Need A Team Of Professionals On Your Side. Select Restoration Provides Every Qualified Piece Of The Puzzle Needed To Restore Your Home Or Business Back To Pre-Loss Condition or Better. We Guarantee A Stress-Free Recovery With Exceptional Results.
3 Steps Of Our Fire Restoration Process
Step 1
FIRE DAMAGE INSPECTION
Within 60 minutes of your call, Select can have a team of certified fire restoration specialist on-site determining the structural integrity of the property, what emergency services are needed to prevent further damage, minimize losses and what is needed to secure the property. We will then explain the entire restoration process to the homeowners in full detail.
Step 2
STOP FURTHER DAMAGE
Select provides 24/7 emergency services for boarding up broken windows or doors, tarp open roofs to protect from the elements and intruders. We also supply the home with temp power or winterize to prevent further damage to the property during winter months. Select will bring in other vendors to assist in the content, textile & electronic restoration.
Step 3 FIRE DAMAGE REPAIR, RECONSTRUCTION, RESTORATION
Fire Damage Repairs – Our fire repair professionals hold all licenses, insurance and workers compensation required by state and federal agencies to perform fire repairs here in Michigan. Relying on over 27 years of in business experience and handling hundreds of Fire Restoration projects, Select Restoration uses a proven and detailed plan to restore your Fire Damaged Property to a pre-loss or better condition quickly & correctly. If you suffered a fire in your home or commercial property contact us immediately. We handle all Kitchen, Electrical, Grease, Lightning, Furnace, Arson, Appliance and Fire Place Accidents.
Reconstruction – Our reconstruction division can handle everything from demolition & repairs to the complete rebuild of the damaged structure. Our estimators & project managers will hold your hand from the beginning to the end of your restoration project. When the construction is complete, they will do a final walk-through with all parties involved including the insurance Company Adjuster, Mortgage Company Etc. At this time final payments will be collected as the Mortgage Company And Insurance Company hold on to a big portion of the insurance claim money till the end of the project for your protection.
Restoration – Select will work with your design plans or you can choose to work with one of our affiliated architects or interior designers. We will create the look and feel you want to achieve for your renovation Project. Select Restoration will work closely with you to gain a full understanding of your vision and to insure that all the details of your design plans are executed in a quality manner and on-time. We are committed to achieving designs that are functional as well as aesthetically pleasing. Our clients are treated with the respect and the concern that they deserve.
Select Restoration will exceed all your expectations and deliver outstanding results that will leave your home or business looking better than new. Thanks to our 27 years of in business experience in the fire damage restoration industry, we have become very well-versed in dealing with insurance claim adjusters, mortgage companies and local building departments alike to streamline any restoration project.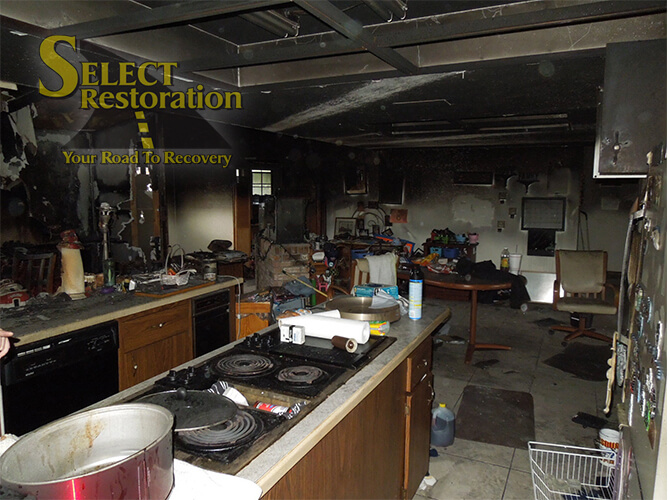 Window Board-up to protect from the elements and intruders.
Contact Us Today To See Our Work, We Have Hundreds Of Satisfied Customers That Would Love To Show Us Off!
For the purpose of speed and convenience, Select Restoration provides an in-house showroom as a time-saving feature to help our customers pick out the materials needed to complete the fire repairs or renovations at their property. We have everything from builders grade to high-end materials to choose from. Call today or stop in our showroom and speak with one of our certified team members. Together, our experience and knowledge coupled with your ideas and input will enhance the appearance of your home.


If Your St Clair County Property Sustained Damage From Fire Or Smoke, Contact Us Today For A Free NO PRESSURE Consultation and site inspection. Let Select Restoration Put you On "YOUR ROAD TO RECOVERY"