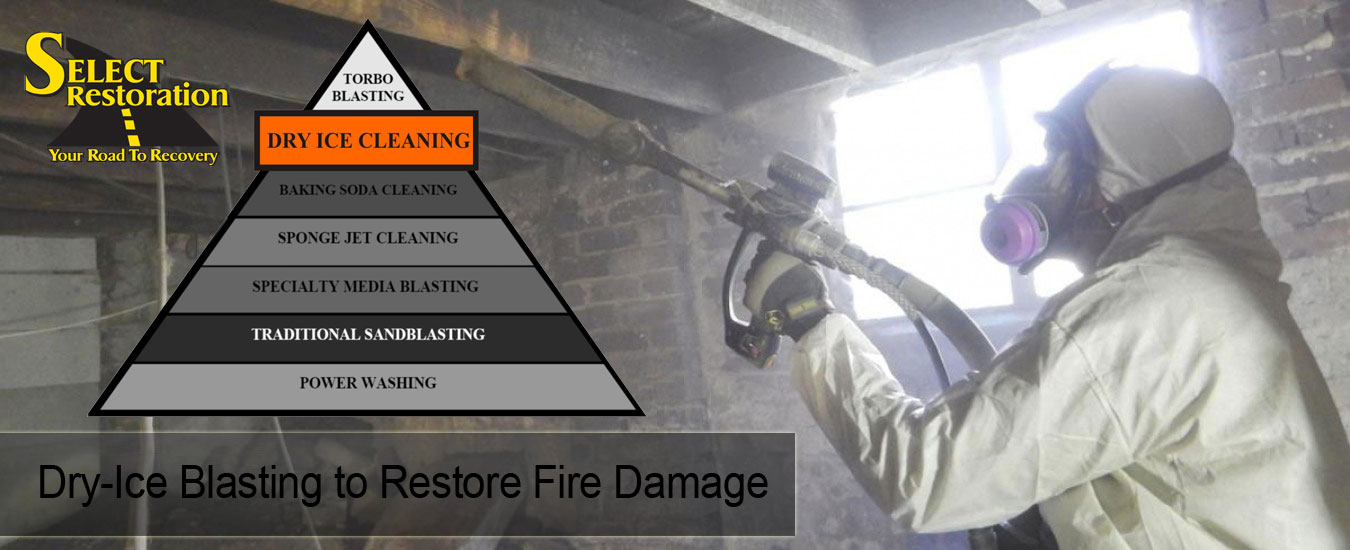 Dry Ice Blasting Cleaning MI, Macomb, Oakland & Wayne
(We Can Save You Thousands In Cleaning Costs)
Dry ice blasting (or CO2 blasting) is a fast, easy and cost-effective cleaning technology that uses dry ice pellets (solid CO2) propelled at supersonic speeds to clean surfaces without damaging equipment or creating secondary waste. Our Michigan dry ice blasting technology provides a powerful cleaning solution for a variety of applications including fire damage restoration and mold remediation. Dry ice blasting is a dry, non-abrasive cleaning process that is environmentally-friendly and saves precious downtime and additional labor costs when heavy cleaning is needed. Call today for a free on site dry ice cleaning demonstration and no cost evaluation 1-844-363-7436
Michigan #1 Dry Ice Blasting Services Contractor
Select Restoration's Dry Ice Blasting services of Michigan is staffed with a certified team of highly-trained dry ice blasting contractors. We are continually investing in new equipment and technology for improved cleaning services, but most importantly, we are here to provide the best customer service in the industry.
Dry Ice Blasting Facts:
---
Costs up to 70% less than other methods
Lowers costly downtime up to 65%
Usually No disassembly required
Increases polarization indices
Non-abrasive and Non-toxic
No moisture or drying time
Minimal secondary waste
Non-conductive
Crucial preventative maintenance
Safe around electrical components
Less potential damage to equipment
Safe around delicate surfaces
Environmentally friendly
Decontaminates surfaces
Sanitizes surfaces
Chemical free
Advantages of Dry Ice Blasting
It is Non-abrasive, non-flammable and non-conductive.
It is clean and approved for use in the food industry.
It is Environmentally friendly and doesn't contain any secondary contaminants such as solvents or chemicals.
Can be used without damaging active electrical or mechanical parts.
Can be used as gently as simply removing dust from electronics cabinets or as aggressive as removing hardened solder from electronics manufacturing equipment.
Can be used to remove manufacturing residues, contaminants, paints and oils.
Common Industry Usage
Food Processing Machine Cleaning
Electric Component Cleaning
Packaging Machine Cleaning
Industrial Oven Cleaning / Grease Removal
Assembly Line Cleaning
Fire Restoration / Mold Remediation
Engine Cleaning
Dry Ice Blasting Cleaning Services MI
Armada, MI. Center Line, MI. Clinton Township, MI. Detroit, MI. Eastpointe, MI. Fraser, MI. Harrison Township, MI. Macomb, MI. Mount Clemens, MI. New Baltimore, MI. New Haven, MI. Ray, MI. Richmond, MI. Romeo, MI. Roseville, MI. Saint Clair, MI. Saint Clair Shores, MI. Sterling Heights, MI. Shelby Twp, MI. Utica, MI. Warren, MI. Washington, MI. Auburn Hills, MI. Berkley, MI. Beverly Hills, MI. Birmingham, MI. Bloomfield Hills, MI. Bloomfield Township, MI. Clarkston, MI. Clawson, MI. Commerce Township, MI. Drayton Plains, Farmington, MI. Farmington Hills, MI. Fraser, MI. Ferndale, MI. Franklin, MI. Hazel Park, MI. Harrison Twp, MI. Highland, MI. Holly, MI. Huntington Woods, MI. Harper Woods, MI. Harbor, MI. Lake Orion, MI. Lakeville, MI. Leonard, MI. Madison Heights, MI. Milford, MI. New Haven, MI. New Baltimore, MI. New Hudson, MI. Northville, MI. Novi, MI. Oak Park, MI. Oakland, MI. Ortonville, MI. Oxford, MI. Pleasant Ridge, MI. Pontiac, MI. Rochester, MI. Rochester Hills, MI. Roseville, MI. Royal Oak, MI. Sterling Heights, MI. South Lyon, MI. Southfield, MI. Shelby Twp, MI. Troy, MI. Union Lake, MI. Walled Lake, MI. Waterford, MI. West Bloomfield, MI. White Lake, MI. Wixom, MI. Allen Park, MI. Belleville, MI. Canton, MI, Dearborn, MI. Garden City, MI. Grosse Pointe Farms, MI. Grosse Pointe Park, MI. Grosse Pointe Shores, MI. Grosse Pointe Woods, MI. Hamtramck, MI. Harper Woods, MI. Westland, MI. Warren, MI. Woodhaven, MI. Wyandotte, MI.