Oakland County Michigan's #1 Commercial Flat Roofing Contractor
Since 1993, Select has been a leader in the commercial flat roofing industry in Oakland County  and throughout Southeast Michigan. We specialize in the installation of the Duro-Last Roofing System on commercial and industrial buildings here in Oakland County. Our 24 years of in business experience allows us to create innovative solutions for challenging roofing situations. From small repairs to large re-roofing projects & insurance claims, we are dedicated to ensuring complete customer satisfaction. With our best price guarantee, you know you will get the best price the first time on the best flat roofing system available on the market today with out the pushy salesmen pitch! Call today 586-791-3900
Select understands the importance for businesses to remain operational with minimal disruptions during the installation process, and our experience and customer rapport ensures our ability to do just that. We ensure that any service work or roof installation will be done in a matter that minimizes business disruption to your building's daily activities.

When it's time to install or repair the commercial roof on your building here in Oakland County, you may feel unsure about where to turn or what you should look for in a commercial flat roofing company. You may be debating about whether to choose one of the larger commercial roofing companies or to go with a local roofing contractor in your area. Here are some pro's and con's.
#1 With a large commercial roofing company, you're always working with employees and subcontractors. Employee's don't care about the customer in the same way the owner does. When Working With Select, The Owner is always on site and available 24/7.
#2 You never know who is going to work on your roof when you hire a large national firm. Employee turnover rate can be high in a big company, so the real-world local experience is typically lower on average than a committed local roofing contractor who personally owns the company.
#3 If you have a question or concern about your commercial roof project, it can be much harder to get an answer when you're working with a large company—you may spend more time navigating an automated phone system than you will talking to an actual human being who is local and ON YOUR JOB SITE.
#4 While a larger company may have more resources to pull from when completing your project, it is often not economically viable for them to help you with certain smaller roof problems down the road—problems a smaller company with their office nearby may be only too happy to tackle for you as part of protecting a valuable local relationship.
#5 Bigger Isn't Always Better: A large commercial roofing company may have over 200 employees—but if 150 of them are located in another state, that isn't going to help you much here in Oakland County when you need roof repairs. If a company's nearest office is far away, the company will likely be slow to respond to your small repair or maintenance needs. And remember: Minor issues are what lead to major ones down the road. Select has been serving Oakland County and the surrounding area since 1993.
We Specialize In Commercial Flat Roof Systems, Repairs and Insurance Claims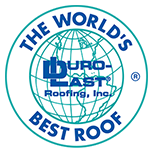 The Duro-Last Difference
When you install a Duro-Last custom prefabricated roofing system here in Oakland County, up to 85% of the seams are completed in a factory-controlled environment before the roofing system is delivered to the job site. By eliminating most of the on-site seaming, Duro-Last dramatically reduces the potential for leaks — and adds the advantages of a faster, quieter and easier installation, with less maintenance and reliable performance for years to come. A key Duro-Last difference is a weft-insertion antiwicking scrim with a density of 18 by 14 threads per inch — which gives the Duro-Last membrane its strength and durability.
15 Year Warranty
Best-in-Class Warranties: Duro-Last leads the Oakland County flat roofing industry with comprehensive warranty coverage. As the only manufacturer with a warranty that expressly covers consequential damages, we work hard and stand by every square foot. Upon completion of a commercial job, a DuroLast Quality Assurance Technical Representative will inspect the Duro-Last roofing system. A warranty will not be issued until every field seam is checked and has passed our inspection.
Energy Efficient
By reflecting up to 86% of the sun's energy, Duro-Last's white membranes can greatly reduce energy consumption and costs. With a total solar emittance of up to 95%, the Duro-Last membrane is ENERGY STAR® qualified, meaning our Macomb County flat roofing systems release energy and heat efficiently.
Recycle & Reuse
Duro-Last has a focus on recycling at every step of the product lifecycle. In addition to our manufacturing process that allows scrap to be recycled back into production, we can take old roofs back at the end of their useful life through our Take Back Program here in Oakland County.

 Click On Links For More Information On The Duro-last Roofing System
[contact-form-7 id="7030″ title="contact-form-7 id=86 title=Contact form 1″]
Commercial Flat Roofing Contractor Macomb County MI 
Auburn Hills, MI. Berkley, MI. Beverly Hills, MI. Birmingham, MI. Bloomfield Hills, MI.Bloomfield Township, MI. Clarkston, MI. Clawson, MI. Commerce Township, MI. Drayton Plains, Farmington, MI. Farmington Hills, MI. Ferndale, MI. Franklin, MI.Hazel Park, MI. Highland, MI. Holly, MI. Huntington Woods, MI. Harbor, MI. Lake Orion, MI. Lakeville, MI. Leonard, MI. Madison Heights, MI. Milford, MI. New Hudson, MI. Northville, MI. Novi, MI. Oak Park, MI. Oakland, MI. Ortonville, MI. Oxford, MI. Pleasant Ridge, MI. Pontiac, MI. Rochester, MI.Rochester Hills, MI. Royal Oak, MI. South Lyon, MI. Southfield, MI. Troy, MI.Union Lake, MI. Walled Lake, MI. Waterford, MI. West Bloomfield, MI. White Lake, MI. Wixom, MI.