Macomb County Commercial Roofing Contractor Duro-Last Certified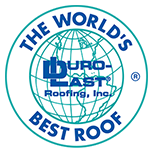 The Duro-Last Difference
When you install a Duro-Last custom prefabricated roofing system, up to 85% of the seams are completed in a factory-controlled environment before the roofing system is delivered to the job site. By eliminating most of the on-site seaming, Duro-Last dramatically reduces the potential for leaks — and adds the advantages of a faster, quieter and easier installation, with less maintenance and reliable performance for years to come. A key Duro-Last difference is a weft-insertion antiwicking scrim with a density of 18 by 14 threads per inch — which gives the Duro-Last membrane its strength and durability.
15 Year Warranty
Best-in-Class Warranties: Duro-Last leads the roofing industry with comprehensive warranty coverage. As the only manufacturer with a warranty that expressly covers consequential damages, we work hard and stand by every square foot. Upon completion of a commercial job, a DuroLast Quality Assurance Technical Representative will inspect the Duro-Last roofing system. A warranty will not be issued until every field seam is checked and has passed our inspection.
Energy Efficient
By reflecting up to 86% of the sun's energy, Duro-Last's white membranes can greatly reduce energy consumption and costs. With a total solar emittance of up to 95%, the Duro-Last membrane is ENERGY STAR® qualified, meaning our roofing systems release energy and heat efficiently.
Recycle & Reuse
Duro-Last has a focus on recycling at every step of the product lifecycle. In addition to our manufacturing process that allows scrap to be recycled back into production, we can take old roofs back at the end of their useful life through our Take Back Program.

 Click On Links For More Information
[contact-form-7 id="7030″ title="contact-form-7 id=86 title=Contact form 1″]
Duro Last Commercial Roofing Contractor Macomb County 
Armada, MI. Center Line, MI. Clinton Township, MI. Eastpointe, MI. Fraser, MI.Harrison Township, MI. Macomb, MI. Mount Clemens, MI. New Baltimore, MI. New Haven, MI. Ray, MI. Richmond, MI. Romeo, MI. Roseville, MI. Saint Clair, MI.Saint Clair Shores, MI. Sterling Heights, MI. Utica, MI. Warren, MI. Washington, MI.