Commercial Water Damage Restoration Services Michigan
Macomb County Commercial Water Damage Cleanup Restoration, Dry-Out Repair Services
We offer 24 hour Emergency Response | 30 Minutes To Your Macomb County Location!
Fast Commercial Flood Cleanup

From

Sewage Backup's, Sump Pump Failures, Toilet Overflows,

Hot Water Heater Burst,

Frozen Pipe Burst – ETC
Controlled Structure Drying System – Fans, Commercial Dehumidifiers, Air Scrubbers
Removal of Wet Building Materials, Drywall-Carpet-Padding-Base molding etc.
Moisture Mapping, Documenting all Wet Materials – Photos
Discuss Priority Areas and Needs With the Consumer
Removal of "at risk" Content Items to Reduce Consequential Loss
Daily Monitoring and Review of Structural Drying Process | Anti-Microbial Application
Insurance Adjuster Meetings, On Site Negotiate & Settle Insurance Claim
Full Service Reconstruction for water damage repairs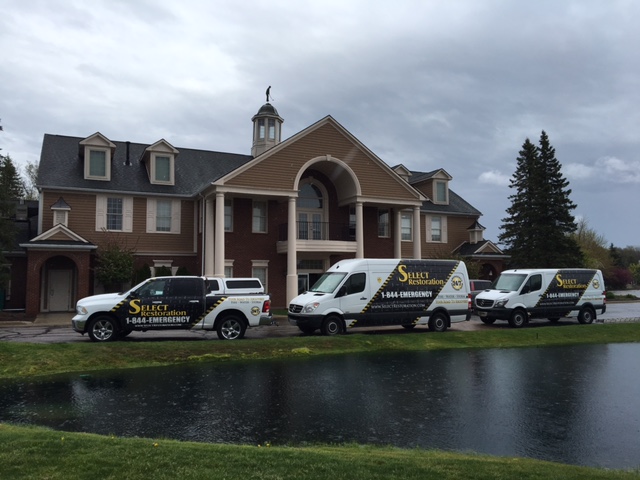 Commercial Property Flood Restoration Services of Michigan
When you face a commercial or large scale flood emergency here in Macomb County, Select Restoration is prepared to help you as soon as possible. We arrive in 30 minutes or less to the scene to limit the water damage so your work environment is back to being safe, dry and flood damage-free! Water damage can truly be devastating to your business and needs to be addressed immediately. We at Select Restoration have proudly established ourselves as one the best and trusted commercial water restoration companies here in Macomb County.


When you need immediate attention for commercial water damage from weather, flash flooding or a broken burst pipe at your workplace, Select Restoration is ready to assist 24/7. We use state-of-the-art commercial structural drying equipment and dehumidifiers so your work environment is left safe, dry and damage-free.
Why Choose Select Restoration? "Always Ready to Respond & Restore"
Commercial-flood-restoration-emergency-dryouts: Armada, MI. Center Line, MI. Clinton Township, MI. Eastpointe, MI. Fraser, MI.Harrison Township, MI. Macomb, MI. Mount Clemens, MI. New Baltimore, MI. New Haven, MI. Ray, MI. Richmond, MI. Romeo, MI. Roseville, MI. Saint Clair, MI.Saint Clair Shores, MI. Sterling Heights, MI. Utica, MI. Warren, MI. Washington, MI.