A Sewage backup can be caused by a broken sewer main, a basement flood after a heavy storm and even an overflowing toilet can all lead to a smelly, filthy bio-hazardous mess. 
We Can Be On-Site In 60 Minutes Or Less To Start Cleaning Up The Mess!

Michigan's most common causes of sewage backup problems include:
Toilets/Drains – The most common cause of a sewage backup comes from your toilets and sinks. Blockage caused by things like dirt, hair, kitty litter or grease accumulation – or by the flushing of objects that are too large for the pipes to handle like sanitary napkins and disposable baby diapers.
Drain Defects – This includes problems with sewer service lines including: holes, cracks, broken pipes, pipe collapses, sags along the sewer line, misaligned pipe and offset or open pipe joints.
Tree Root Infiltration – Tree roots enter the service pipe at cracked joints and travel through the pipes, plugging the wastewater flow as it travels. These tree roots can additionally cause structural defects as they crack water pipes when they grow.
Sanitary Sewer Blocks – A sewer blockage can occur in a city sanitary main line and if this blockage is not detected in time then raw sewage from the main can back up through the floor drains into businesses and homes.
Flooding of Sanitary Sewers – During heavy rains sewer lines often fill up with water faster than they drain, which can lead to a sewage backup as the water flows back through floor drains causing overflows.
Raw Sewage Water contains biohazards that can be spread to humans through skin contact and inhalation. Exposure to raw sewage water can result in various health problems including: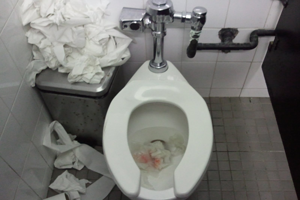 -Hepatitis
-Dermatitis
-Weil's Disease
-Legionnaires Disease
-Gastroenteritis
-Allergic Alveolitis
-Asthma
-Fatal damage to kidneys, liver and blood
-Infection of skin or eyes
Contact Us For A Free On-Site Water Damage Consultation 
We offer 24 hour Emergency Response | 60 Minutes To Your Location!
Fast Flood Cleanup

 

From

 

Sewage Backup's, Sump Pump Failures, Toilet Overflows,

 

Hot Water Heater Burst,

 

Frozen Pipe Burst – ETC
Controlled Structure Drying System – Fans, Commercial Dehumidifiers, Air Scrubbers
Removal of Wet Building Materials, Drywall-Carpet-Padding-Base molding etc.
Moisture Mapping, Documenting all Wet Materials – Photos
Discuss Priority Areas and Needs With the Consumer
Removal of "at risk" Content Items to Reduce Consequential Loss
Daily Monitoring and Review of Structural Drying Process | Anti-Microbial Application
Insurance Adjuster Meetings, On Site Negotiate & Settle Insurance Claim
Full Service Reconstruction for water damage repairs
Sanitizing * Disinfecting * Mold Prevention & Remediation
For A Free Consultation & Site Inspection 24/7
Why Choose Select Restoration? "Always Ready to Respond & Restore"