Michigan's #1 Property Demolition Contractor 
Government
Select Restoration has performed numerous government demolition projects ranging from local government to federal government projects. We perform complete HAZMAT remediation, demolition, and site restoration for Government projects.
Government Building Demolition
We have done demolition and site restoration projects for government building all across Michigan.
Commercial
Select Restoration has the ability to perform a variety of demolition services for the removal of commercial structures. We have a proven track record of meeting challenging deadlines while maintaining a safe work environment.
Commercial Building Demolition
We specialize in various types of commercial demolition and understand that each client has its own needs and requirements.
Residential
Select Restoration offers all types of controlled residential demolition and has performed numerous residential projects. We perform demolition and site restoration for residential projects as well as complete HAZMAT remediation.
Residential Home Demolition
The size of projects we have completed range from one single dwelling to our largest project 3 story family housing covering over 23,000 sf.
Churches
We have performed church demolition projects up to 350,000sf here in Michigan. We make every attempt to ensure that your project is done on time and to your specifications. Since 1993 we have been a trusted demolition contractor.
Church Demolition Services
We also provides mobile crushing and recycling which allows us to re use materials onsite to save on cost when requested by the pastor.
"We demolish and dispose of anything unwanted"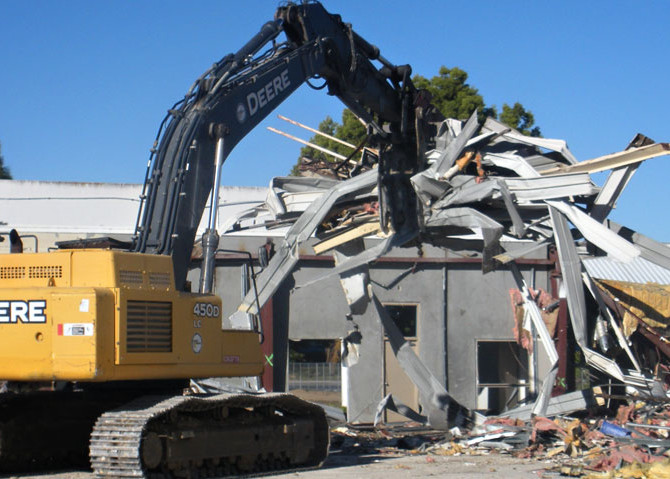 We are NOT A Franchise, Select Restoration, A TRUSTED name in the Property Damage Restoration Industry, has built it's reputation, not bought it! Since 1993, We have provided demolition services to government, commercial and residential clients throughout the Mid-Michigan. Select has over twenty-five years combined experience in structural, selective, marine, and implosive demolition, as well as field management services, site excavation, restoration, and site development.
Select Restoration also has extensive experience in hazardous materials, asbestos & mold remediation. SELECT'S main goal on every project is to recycle utilizing reclamation centers, as well as their own mobile crushing equipment for reuse of aggregate for future projects.

Select offers highly experienced personnel uniquely qualified to perform various environmental and demolition related projects. These professionals are well versed in regulatory issues pertaining to demolition/construction activities and hazardous materials handling and remediation. For each project, SELECT will provide effective communication and facilitate a close working relationship with the client and other team members.
EPA accredited and Michigan licensed asbestos inspector/management company
EPA accredited and Michigan licensed asbestos abatement supervisor
EPA accredited and Michigan licensed lead inspector/risk assessor
OSHA 40-hour Hazardous Operations and Supervisor Training
OSHA Construction Safety, Confined Space Entry, and Respiratory Protection Training
State of Michigan Erosion and Sediment Control Responsible Land  Disturber
OSHA Certified Oil Spill Control and Recovery
OSHA Hazardous Waste Operations & Emergency Response Team
OSHA Trenching & Excavation
Qualified Crane Rigger/Signaler
.
Select Restoration believes in communicating with our customers. We will continually update you on the progress of your job and give you a time line to follow. Whether it's a small house, church or a large commercial building that need demolition, you can depend on Select Restoration's technical knowledge, and superior crew.

Commercial, Residential, Industrial Demolition Services Michigan